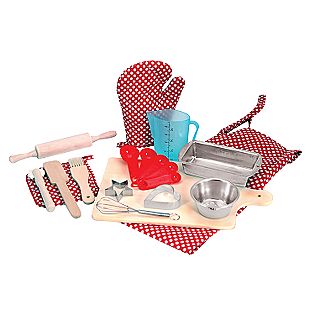 I am a mother to three young girls who love to help me in the kitchen. We collaborate on scrambled eggs, pancakes, chocolate chip cookies, and banana bread. It doesn't matter to them what we are cooking, they just enjoy being with me while I work. They are learning fast, and will soon be making some foods with only my supervision. I was thrilled to have an opportunity for our family to review the Junior Chef Bake Set in a Box set from Schylling, provided to us for product testing by the Henry Ford Museum.
Quality of the Junior Chef Bake Set
I have been cooking with my daughters for several years now, and we have owned several bakeware sets. I have found them to be great sources for imaginative play, but none of these other baking sets had pieces you could actually cook with!
With the Junior Chef Bake Set in a Box though, my daughters could easily use the small just-their-size implements to stir and pour, mix and measure. The implements were an appropriate size for both my 4 and 6-year old to use and, rather than limiting their play to imaginative cooking in a play kitchen, they were using real tools to cook with in a real kitchen!
Packaged in an attractive vintage-inspired box, the set comes with 18 pieces, including a child size 1/2 cup measuring cup, cookie cutters, a rolling pin, and small sized measuring spoons. Schylling thought of everything, including an apron, oven mitt, and potholder. All items are safe to use with preparing and baking real food. The loaf pan is very heavy for its size and is probably better crafted than my own full-size loaf pan.
Child Tester Results
My daughters had an absolutely wonderful time unpacking the box and setting the tools out. They thought it was so exciting that I had big tools that were the same as the small tools in the box, and they lined the big and small tools up together. They took turns wearing the apron and stirring my bowl with my big whisk and their little bowl with their little whisk. They waited impatiently for both loaf pans to be done in the oven. Their small loaf was the perfect size to cut in half and enjoy a treat that they had prepared and baked themselves in the loaf pan from the set!
Price of the Junior Chef Set
In my opinion, the price for this Junior Chef Bake Set in a Box ($24.9) is more than fair and it is available at discounted prices, with a little searching online. It is without question the best stocked and most useful baking set our family has owned, and I would be quite willing to pay the difference between a bake set designed solely for imaginative play and a bake set designed to be useful in the kitchen. The box design and the number of sturdy pieces in the set certainly contribute to its appeal too.
Cautions
I have two cautions that I should mention about the Schylling Junior Chef Bake Set in a Box. This set is designed for children ages 3 and older so there are small parts that may present chocking hazards. Also, please remember how important it is to always supervise your little cooks in the kitchen if using this set to bake with. Place the loaf pan in the oven and take it out yourself!
The Schylling Junior Chef Bake Set in a Box is a fantastic present for the little cook in your life. Because of its gender neutral red-and-white checked pattern and non-embellished tools, it is appropriate for both boys and girls. If you are looking for imaginative play and like to have the option of your little assistant using appropriate-sized tools to help in the kitchen, this is a great choice.
The Henry Ford Museum
While the Junior Chef Bake Set is available from a variety of stores, including Schylling's online store, this set was provided to us for review from the Henry Ford Museum. The Henry Ford honors Henry Ford, inventor of the Model-T car, developer of the modern assemly line, and founder of the Ford Motor Company. Located on 90 acres in Dearborn, Michigan, it is home to an amazing collection of inventions and artifacts in its museum, the Ford Rouge Factory Tour, and the Benson Ford Research Center.
Greenfield Village, its recreated historic village, features 83 authentic structures on the property, including Noah Webster's home, Thomas Edison's laboratory, and the courthouse where Abraham Lincoln practiced law. There is so much to do, that you would need more than a day to see and experience all of it! It is a good destination for family day trips for those who live in the area and an excellent resource for homeschoolers covering units in history.
Why the Bake Set? The Henry Ford's mission, as stated on their website, is to "provide unique educational experiences based on authentic objects, stories, and lives from America's traditions of ingenuity, resourcefulness and innovation." The Junior Chef Bake Set then is just one of the many traditional items they offer that support this mission. It and other items in their gift shop and catalog reflect their celebration and preservation of yesterday's traditions.