Every day it seems as if there is a ad for the latest, greatest natural product for young families. Sure, the companies know that we are wanting to connect more with nature and to our original roots – it's a great marketing scheme.
However, do you really know what is really in the product? I was sure surprised when Chrystal of Happy Mothering sent her answers back to me to find that some of my go-to shelf items are on the naughty list.
When walking up and down the baby product isles I'm always surprised by the number of items marketed as natural and "Best for Your Baby." For new moms it can be overwhelming trying to figure out what to choose, and every family seems to have a "best" product that works for them. Instead of breaking it down to actual products, what are some ingredients we should be reading the labels and watching out for?
That's a great question. You have to be very careful because products can be labeled with buzz words like natural, organic, hypoallergenic or dermatologist tested; but that doesn't necessarily mean those products are safe for your baby's delicate skin. Why? Well, there is actually no legal definition for those claims, so anyone can make them. Scary, huh?
Additionally, you should know that 60% of what you put on your skin is absorbed directly into your bloodstream. So what you put on your skin affects your health as much as what you eat.
As far as ingredients to watch out for, since we're talking specifically about baby products, I'll just provide you with three of the most important ones to avoid so you have a good starting point. There are a lot more to look out for though.
Fragrance
The ingredient I see most often in "natural" baby products that you should absolutely avoid is "Fragrance" (sometimes also listed as "Parfum"). This is a catchall term for an undisclosed mixture of various scent chemicals and ingredients used as fragrance dispersants, such as diethyl phthalate. Fragrance mixes have been associated with allergies, dermatitis, respiratory distress and potential effects on the reproductive system.
Paraben
It's also very important to avoid any ingredient with "Paraben" in it. Parabens can be found listed on your product labels as benzylparaben, butylparaben, ethylparaben, isobutylparaben, methylparaben and propylparaben. Parabens have hormone-disrupting qualities (not what you want for a new baby). The Environmental Protection Agency has linked methylparabens in particular to metabolic, developmental, hormonal and neurological disorders, as well as various cancers.
The SLSs
Sodium Laureth Sulfate and Sodium Lauryl Sulfate are strong irritants found in many of skincare products that we have come to expect to be foamy (shampoos, toothpastes, hand soaps, body washes, etc). I have had eczema for many years, and after eliminating these ingredients from our home, it's rare that I have an occurrence of eczema.
A good rule of thumb is that if you have trouble pronouncing the ingredient, it's probably not safe. If you're uncertain or want more information on a particular ingredient, the Environmental Working Group's Cosmetics Database is a wonderful resource to use. Many products are rated for their toxicity level, but if your product isn't listed, you can still look up the ingredients to determine its safety.
Now that we know what ingredients to watch out for, have you found any products marketed for use on babies containing them?
Absolutely! Most of the baby washes you find at your local store, like Johnson & Johnson's Baby Head-to-Toe Wash, include many of these ingredients like Fragrance and Sodium Laureth Sulfate, as well as many other synthetic ingredients. Many of the Aveeno Baby products also have Fragrance in them.
Even so-called natural brands like Burt's Bees baby products contain Fragrance (Parfum)! And the Burt's Bees Baby Calming Lotion, for example, contains magnesium aluminum silicate. Aluminum compounds are known to be toxic to humans.
It amazes me how many baby brands have Fragrance or Parfum listed in their ingredients. I recommend going and checking your labels now before you forget. If you get in the habit of reading labels now, you'll be one step closer to keeping healthy skin for your family!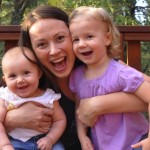 Chrystal Johnson, founder and chief editor of HappyMothering.com, is a mother of two girls who believes in living a simple, natural lifestyle. A former marketing manager, Chrystal spends her time researching green and eco-friendly alternatives to improve her family's life. She enjoys sharing those discoveries with anyone who is willing to listen.