At my house, we love to do Valentine crafts this time of year. Yes, I have all boys and we still enjoy making treats to give to our friends! Don't you?
If you are on the hunt for easy, budget-friendly crafts with step-by-step instructions, I have a great list for you! If you love free printables, this list just got better!
Your kids will love making these with you to give to their teachers, friends at school, neighbors and family members. Do you homeschool? Us too! You can totally use these ideas to host a low key Valentine party or just give as treats to and from siblings.
Ready for the fun?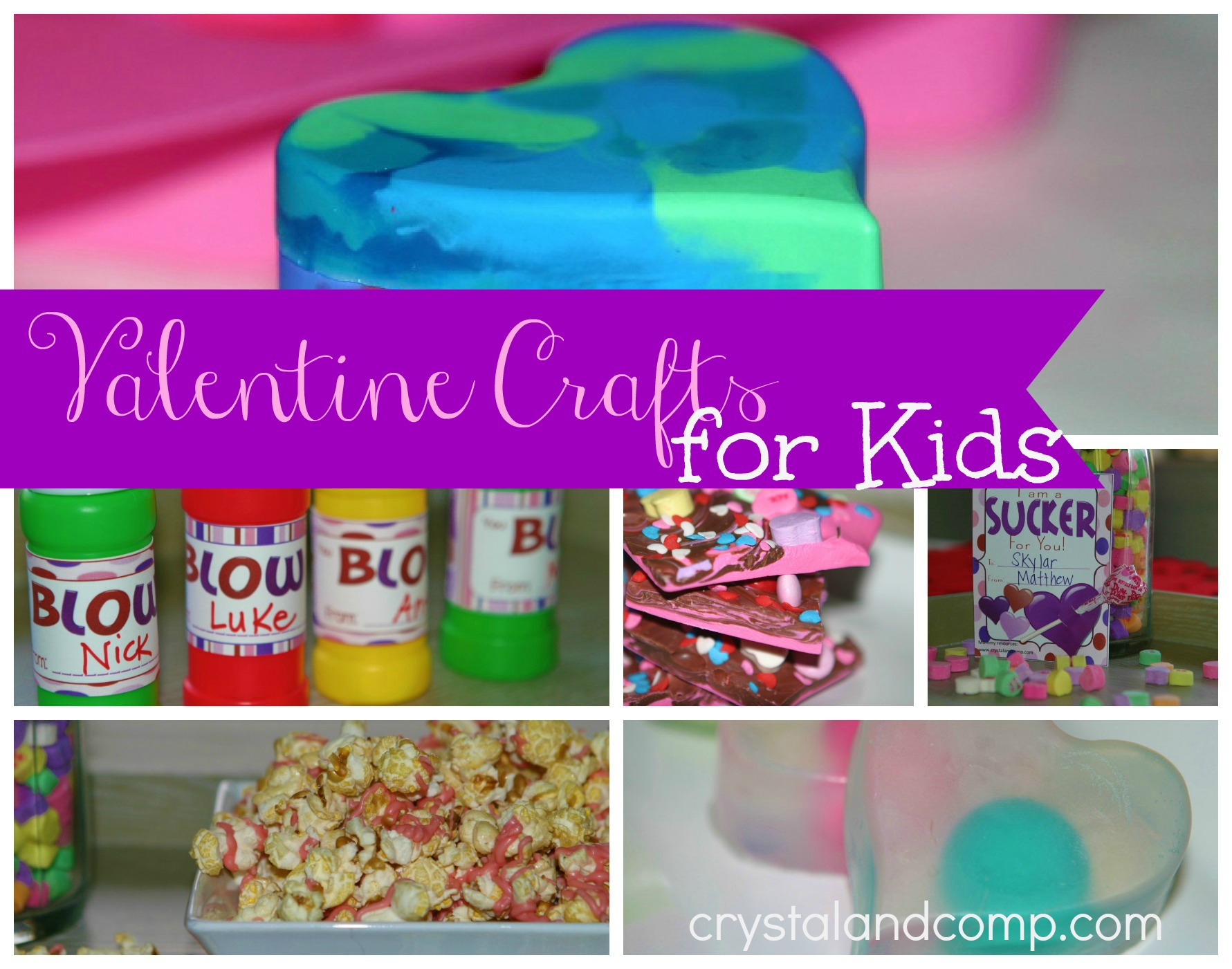 12 Valentine Crafts For Kids
Recycled Heart Crayons– this is

the most viewed Valentine craft

on my site. Take leftover and broken crayons and convert them into Valentine heart crayons! You will adore the free printable that goes with them!
Blow Me Away Bubble Valentine– this free printable fits perfectly on the party favor size bubbles that are 2 oz. This is a fun treat that is sugar-free! (Moms love that!)
Valentine Bark– this is the perfect treat for your teacher. There is a free printable to make gift giving super easy!
Sucker For You Printable– every child loves to get and give suckers! You will love this I am a Sucker for You free printable.
Valentine Popcorn – oh, this is easy and yummy. This treat is perfect for your Valentine party and takes 10 minutes to make.
Valentine Soap Printable– this soap tutorial is another fun projects the kids will love helping you with. It comes with a free printable so you can hand them out to friends and there is a treat inside the soap! Score!
Cupid Poo Free Printable – this free printable is adorable. Put Valentine colored M&Ms in a clear cello bag, staple the printable on and you have a fun treat that boys especially love.
Valentine Mailboxes- I love these paper mache mailboxes that little ones love to decorate. A great place to leave Valentine notes!
Marshmallow Valentine Pops– love marshmallows? Make these! Super easy and the kids will have a blast making them and giving them to their friends.
Decorate with Heart Candy– here is a fun and inexpensive way to decorate for your Valentine party. Think outside the box with these conversation hearts.
Mod Podge Vase– do you love to give flowers to your teacher for Valentine's Day? Maybe you want a sweet, homemade flower arrangement for your Valentine table. Re-purpose spaghetti jars to make these personal vases!
Cupcake Spa Socks– take spa socks and convert them to a teachers gift that looks like a cupcake! Love!!
Which one will you make first? I know you'll have a blast creating.