Have you heard about heirloom seeds and hybrid seeds? Maybe you've wondered what all the fuss was about. Well if you are living on a small homestead or backyard farm and want to be able to save seeds for next year's garden, you want to start with heirloom plant varieties. This video will show you exactly why planting hybrid seeds is useless for self-sufficiency.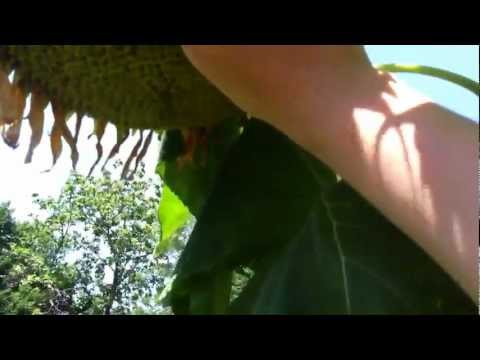 These sunflowers were planted from a packet of seed that we were given. They were a hybrid variety, so I figured we'd plant them for the year and just see what happens. They were lovely, and we left a few heads standing for the cardinals who were attracted to the nutritious seeds. I love those gorgeous birds and decided to let them have a few. Well not only did the cardinals get their fair share, but they left a ton of seedlings that sprouted up as volunteers this year as well. Partly out of curiosity, and partly out of business while writing Backyard Farming on an Acre (More or Less), we left several of the seedlings to grow.
The variety is astounding. We had sunflowers that were dropping petals by the end of May and we had sunflowers just opening their flowers in July. Some were less than 2 feet tall and others were over 12 feet tall. Some had heads literally 2 feet in diameter and some had flowers with centers the size of a quarter. Fully half of them didn't produce any seeds at all. Since then, we have planted heirloom seeds so we can save the seeds and have a viable crop year after year! Have you had an experience with hybrid or heirloom seeds?